About Palo Alto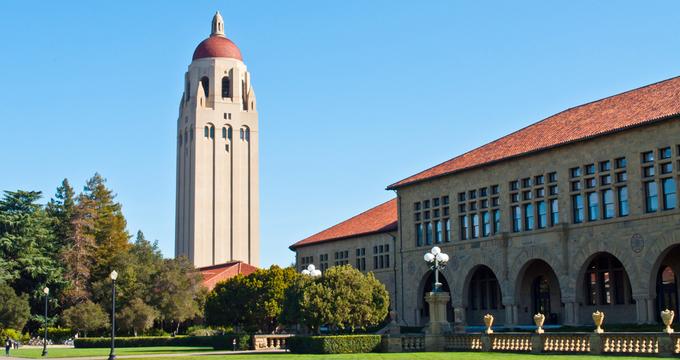 Palo Alto palo, literally "stick", colloquially "tree", and alto "tall"; meaning: "tall tree") is a charter city located in the northwest corner of Santa Clara County, California, in the San Francisco Bay Area of the United States. The city shares its borders with East Palo Alto, Mountain View, Los Altos, Stanford, Portola Valley, and Menlo Park.
Palo Alto was established by Leland Stanford Sr. when he founded Stanford University, following the death of his son, Leland Stanford Jr. The city includes portions of Stanford and is headquarters to a number of high-technology companies, including Hewlett-Packard (HP), Space Systems/Loral, VMware, Tesla Motors, Ford Research and Innovation Center, PARC, Ning, IDEO, Skype, and Palantir Technologies. It has also served as an incubator to several other high-technology companies such as Google, Facebook, Logitech, Intuit, Pinterest, and PayPal.
As of the 2010 census, the city's total resident population is 64,403. Palo Alto is one of the most expensive cities in the United States and its residents are among the most educated in the country.
---
History
Palo Alto's earliest recorded history dates from 1769, when Gaspar de Portolá noted an Ohlone settlement. This remains an area of known Indian mounds. A plaque at Middlefield Road and Embarcadero Road commemorates the area.
The city got its name from the tall landmark Redwood tree, El Palo Alto, which still grows on the east bank of San Francisquito Creek across from Menlo Park. One trunk of the twin-trunked tree can still be found by the railroad trestle near Alma Street in El Palo Alto Park.The other trunk was destroyed during a storm in the late 20th century. A plaque there recounts the story of the Portolà expedition, a 63-man, 200-horse expedition from San Diego to Monterey from November 7–11, 1769.
The township of Mayfield was formed in 1855, in what is now southern Palo Alto. In 1875, French financier Jean Baptiste Paulin Caperon, better known as Peter Coutts, purchased land in Mayfield and four other parcels around three sides of today's College Terrace – more than a thousand acres extending from today's Page Mill Road to Serra Street and from El Camino Real to the foothills. Coutts named his property Ayrshire Farm. His fanciful brick 50-foot-tall brick tower near Matadero Creek likely marked the south corner of his property. Leland Stanford started buying land in the area in 1876 for a horse farm, called the Palo Alto Stock Farm. Stanford bought Ayrshire Farm in 1882.



Jane and Leland Stanford, Sr. founded Stanford University in 1891, dedicated to his son who died of typhoid fever at age 15 in 1884. In 1886, Stanford came to Mayfield, interested in founding his university there. He had a train stop created near his school on Mayfield's downtown street, Lincoln Street (now named California Avenue). However, he had one condition: alcohol had to be banned from the town. Known for its 13 rowdy saloons, Mayfield rejected his requests for reform. This led him to drive the formation of Palo Alto as a Temperance Town in 1894 with the help of his friend Timothy Hopkins of the Southern Pacific Railroad who bought 740 acres (3.0 km2) of private land in 1887 for the new townsite. The Hopkins Tract, bounded by El Camino Real, San Francisquito Creek, Boyce, Channing, Melville, and Hopkins Avenues, and Embarcadero Road,[13] was proclaimed a local Heritage District during Palo's Alto Centennial in 1994. Stanford set up his university, Stanford University, and a train stop (on University Avenue) by his new town. With Stanford's support, saloon days faded and Palo Alto grew to the size of Mayfield. On July 2, 1925, Palo Alto voters approved the annexation of Mayfield and the two communities were officially consolidated on July 6, 1925. This saga explains why Palo Alto has two downtown areas: one along University Avenue and one along California Avenue.
Many of Stanford University's first faculty members settled in the Professorville neighborhood of Palo Alto. Professorville, now a registered national historic district, is bounded by Kingsley, Lincoln, and Addison avenues and the cross streets of Ramona, Bryant, and Waverley. The district includes a large number of well-preserved residences dating from the 1890s, including 833 Kingsley, 345 Lincoln and 450 Kingsley. 1044 Bryant was the home of Russell Varian, co-inventor of the Klystron tube. The Federal Telegraph laboratory site, situated at 218 Channing, is a California Historical Landmark recognizing Lee de Forest's 1911 invention of the vacuum tube and electronic oscillator at that location. While not open to the public, the garage that housed the launch of Hewlett Packard is located at 367 Addison Avenue. Hewlett Packard recently restored the house and garage. A second historic district on Ramona Street can be found downtown between University and Hamilton Avenues. The Palo Alto Chinese School is the oldest in the entire Bay Area. it is also home to the second oldest opera company in California the West Bay Opera.
---
Geography
Topography
Palo Alto is crossed by several creeks that flow north to San Francisco Bay, Adobe Creek on its eastern boundary, San Francisquito Creek on its western boundary, and Matadero Creek in between the other two. Arastradero Creek is tributary to Matadero Creek, andBarron Creek is now diverted to Adobe Creek just south of Highway 101 by a diversion channel. The San Francisquito Creek mainstem is formed by the confluence of Corte Madera Creek and Bear Creek not far below Searsville Dam. Further downstream, Los Trancos Creek is tributary to San Francisquito Creek below Interstate 280.
---
Climate
Typical of the San Francisco Bay Area, Palo Alto has a Mediterranean Climate with cool, wet winters and warm, dry summers. Typically, in the warmer months, as the sun goes down, the fog bank flows over the foothills to the west and covers the night sky, thus creating a blanket that helps trap the summer warmth absorbed during the day. Even so, it is rare for the overnight low temperature to exceed 60 °F (16 °C).
Residents of Palo Alto
Artists and entertainers
William Ackerman, acoustic guitarist, founded influential New Age record label Windham Hill Records
Joan Baez, folk singer

Lindsey Buckingham, musician, member of Fleetwood Mac, was born in nearby Atherton, California

Doug Clifford, drummer of Creedence Clearwater Revival
Margo Davis, photographer

The Grateful Dead, rock "jam" band; early incarnations of band were based in Palo Alto.

The Donnas, rock group, met while growing up in Palo Alto

Helen Katherine Forbes, muralist and painter

Dave Franco, actor
James Franco, actor, director, screenwriter, producer, artist, author, was born in Palo Alto

Neva Gerber, silent screen actress, moved to Palo Alto after she married San Francisco oil geologist Edward F. Nolan

Charles Haid, actor and director, Hill Street Blues, Palo Alto High alumnus
Teri Hatcher, actress known for Desperate Housewives and Lois & Clark: The New Adventures of Superman, was born in Palo Alto

Amy Irving, actress known for Crossing Delancey and Yentl was born in Palo Alto

Željko Ivanek, actor, 24, Damages, Madam Secretary, Cubberley High alumnus
Stephan Jenkins, rock musician (Third Eye Blind)
Ugly Kid Joe, rock band; members Whitfield Crane and Klaus Eichstadt grew up in Palo Alto, as did producer Eric Valentine
Ollie Johnston, Academy Award–winning Disney animator (Snow White and the Seven Dwarfs, Fantasia)

Ellen K, radio personality
The Kingston Trio, a folk group formed in Palo Alto while its members were enrolled at Stanford University and nearby Menlo College
Brandis Kemp, actress (Fridays)
Shemar Moore, actor
Yvonne Rainer, modern dancer and filmmaker

Michael H. Riley, Emmy Award-nominated motion graphics designer and art director

Rick Rossovich, actor, Top Gun, Roxanne, The Terminator
Grace Slick, singer with the rock group Jefferson Airplane, later known as Jefferson Starship

Alessandra Torresani, actress
Business leaders and entrepreneurs
Politicians and civil servants
Writers
Scientists
Athletes